June Progress
Our list has been slow this past month ;) For us at Serenity Farms, June brings the start of Farmers Market; hay making season and like everyone else the usual avalanche of weddings and graduations to celebrate!
But, I have been slowly stealing time for a few rows at a time and the prayer time to go along with it. I am including a photo of my shawl in progress, knit from the handspun, hand dyed alpaca yarn. Since it is nearly impossible to see its shape spread out, I thought I would take a closer picture to share.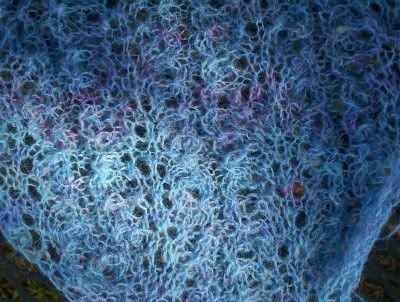 You don't see much stitch definition, but I think you get an idea of the pretty colors. I am only through my third repeat of section B, just starting my fourth and just started with a second ball of the yarn.
Look forward to seeing more shawls as everyone finishes or progresses!
Hugs,
Cary