Cary's Progress
Here is a picture of my progress, although you can't really tell there has been much progress ;D I am actually on my third repeat of Chart B.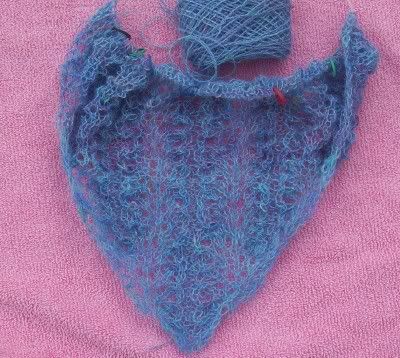 I did as Margaret suggested and went up in needle size. I went up to a size 8 from a size 6 and this is really an embroidery thread size yarn! I still don't have the stitch definition I would really like and know this is going to require some pretty extrememe blocking at the end. Still, I think I am happy with it. It reminds me very much in look and feel of some of the Orenburg lace shawls I have, so I have hope! I may stop when it reaches scarf size and start another with a different yarn.
I am enjoying the pattern and the company I am knitting in here at this group. The peace of starting out with prayers for loved ones make it such a special project!
And Happy Mothers Day to all who will be celebrating today!
Hugs,
Cary at Serenity Farms